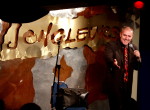 Keith started performing as a street entertainer but soon realized that this occupation was weather dependant.  No-one will watch a street show in the middle of winter.  There had to be somewhere else to perform, there was – comedy clubs.
This was in the mid 80's during the UK comedy club boom.
'At the time I knew nothing about comedy clubs.  I just turned up and blagged my way into an open spot (a live audition in front of a late night audience).  The club I had chosen was the Comedy Store in London.  I didn't know it at the time but it was the biggest and best comedy club in the country.  People usually start in smaller clubs and work their way up.  They loved my comedy, my audience participation and my alternative approach to magic – I was immediately booked.'
Keith's act developed and he became one of the only magicians to headline comedy clubs in the UK.  This act has taken him quite literally around the world several times; Hong Kong, Singapore, China, the USA, Canada, South America, All over Europe…
Even though most of his work is now with corporate clients he still finds time to headline comedy clubs whenever he can.
My act is very funny with a unique mix of stand up, prop gags, audience participation stunts and magic (and some of the magic actually works!)
Clubs Keith has worked include:
Mark Ridley's Comedy Castle, The Comedy Store, All the Jongleurs Clubs in the UK and Europe.  He has worked alongside Robin Williams, Russell Peters, Eddie Izzard, Dave Coulier, Dame Edna Everidge, Jackie Mason, and just about everybody else!