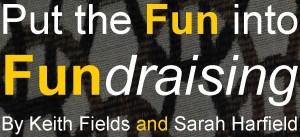 Keith and Sarah have been working with non-profit organizations for over 20 years.  Working on the inside (as organizers), on the outside (as consultants), and on the stage (presenting Keith's Live and Tricking show as a fundraising vehicle).  They have distilled all of that experience and shared it with you in this easy to read EBook.
Packed full of ideas and helpful hints on how to put the Fun into Fundraising
Download your copy today.
In this book you will be taken through a simple process to help you analyse and evaluate your previous fundraising efforts, review your current situation and needs and point you in the right direction for future fundraising.
'Fundraising should be taken seriously as it is the fuel which will keep an organization moving forwards.  We will help you apply some simple business analyses to help you maximise your income.'
'You can't say fundraising without saying FUN'